"We wouldn't go back to that other life for anything….
The freedom we have is simply amazing. And while we still deal with everyday life, there is serenity all around us. It's a slower pace, a simpler life, and we are much more deeply connected and happy."
— Howard Payne, Full-Time RVer and RV Freedom Now Story Contributor
If you are dreaming of a Full-Time RV Life
It's time to stop dreaming and take action!
You can get started right now
and have a life of adventure on the road!
Being able to travel on the roads and come and go when ever we so desire. This lovely country of ours is extremely beautiful from coast to coast.  Yes, traveling by an airplane will get you to your detestation quicker, but how much do you get to see of this country, not much.  What about a train, yes a little slower than a plane, but then again, how much do you still get to see, once again very little. Do not get me wrong, I am not saying traveling by the means of airplane and train is a bad thing, I am stressing the extreme limit those two traveling mechanisms  present to someone that fancies to view our land at a slower pace and be able to use all their sense in experiencing our world.  Now, traveling via an RV, one will be able to over common all the restrictive boundaries that other means of traveling present them.  RV traveling provides the freedom ones seeks in observing what is around them. Now mind you traveling by an RV is much slower than most traveling transports, but that is beauty of it.  The freedom of stopping when you so desire to allow you to be able enjoy what mother nature has give us is priceless!
Discover the 10 Steps You Need
to Live the Ultimate RV Lifestyle
from Real-World People Already Doing It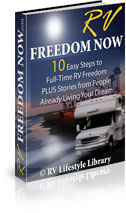 Choose Freedom and